Recital Performances
Recitals will now be virtual!
Recitals are now scheduled June 2-7!
Please review your inbox for the recital update email we sent on May 19 with details!
Recital Costumes
Recital Costume Pick Up events are being held at DXP2.
DXP2 is our location in front of HEB/next to Bank of America.
The next pick up event is Friday, May 22 from 2pm-6pm.
Please review your inbox for the reminder email we sent on May 20 with details!
Review Recitals for costume pictures!
Registration PAUSED for Summer Camps
We will announce ASAP any changes to the Summer Camp Schedule, including date changes and/or cancellations.

Full refunds or credits will be provided due to any changes we have to make.

Girls & Boys
No prior dance experience needed!
Open to all dancers!
Review Summer Classes & Camps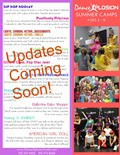 Summer Class Schedule
We will announce ASAP our plans for Summer Classes!
We are determining the days, times, ages and styles of class we are able to offer this summer.
We will ensure all social distancing, safety and cleaning requirements are met!
General Studio Info
Enrollment can be done ONLINE
Review Descriptions & Attire for details on classes and what to wear!
Review Contact Us for studio
locations, hours, and phone numbers